The right machine for every situation – the key of success remains unchanged: Here, man and machine together ensure your success.
HSC Verticle Machining Centre
Make: DMG MORI

Type: DMU 70 ecoMill
The content of this page is currently only available in German.
Die Hightech-Maschine für jede Fräsbearbeitung im Teilebereich bis 350 kg Aufspanngewicht ermöglicht das Fräsen in 5 Achsen.
Dazu verfügt die Maschine über Komplettausstattung: Druckluft durch die Spindel zur Trockenbearbeitung, IKZ (Innere-Kühlmittel-Zufuhr) durch die Spindel zur Nassbearbeitung, Produktionspaket sowie Automatisierung, Messen und Überwachen.
Bestens geeignet ist die DMG MORI DMU 70 ecoMill darum für Einzelanfertigung und Serie, für Prototypen und für anspruchsvolle komplexe Teile.
X-Axle: 750 mm
Y-Axle: 600 mm
Z-Axle: 520 mm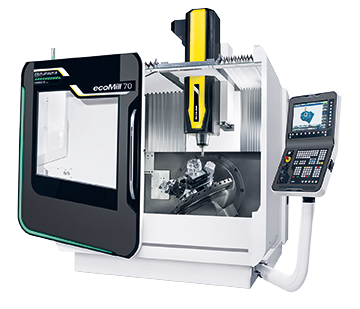 Controls: Heidenhain iTNC 620